Sunday, September 13th, 2009...12:45 pm
Love Letter to Grace Coddington
Jump to Comments
Dear Grace,
I just saw The September Issue, R.J. Cutler's documentary about the making of last September's issue of Vogue, and I've fallen in love with you.  Absolutely head over heels.  Before I count the ways, let me feature a picture of you in all your gorgeousness.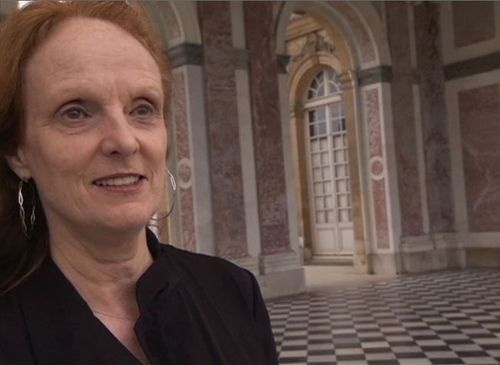 Look at the excitement and energy in those eyes!  Mwah, mwah!
Here are six of the 6000 or so things I love about you:
— Your long frizzy red hair.
— Your baggy black dresses.
— Your orthopedic shoes (much like my own).
— Your devotion to the aesthetics of fashion.
— Your willingness to fight for what you believe in.
— Your appreciation for both romance and reality, beauty and humanity.
Oh, and wait, most important of all, you combine a childlike creativity and a freshness of vision with a toughness rooted in maturity and experience — in short, what not-acting-old while also owning your age is all about.
I remember glimpsing you in the halls of Conde Nast and at fashion events when I worked at Glamour in the 1980s. You always looked strong, straightforward, earthy as well as glamorous, like someone I'd want to emulate.
I'm not the first one to peg you as the heroine of the movie.
But I may be the first one to talk about how striking it is to watch a staff of over-50 editors, including Anna Wintour, Tonne Goodman, Andre Leon Talley, and my old boss Phyllis Posnick, along with photographers like Mario Testino, rule the fashion world.  Teenage models may represent beauty, but those are old people behind the curtain, working the levers, defining the details, and (in the case of you, Grace Coddington), even buttoning the shoes.
As a fellow old person, and a professional one at that, I'm thrilled that the 50-and-60-somethings have all the power in the fashion world.  But if I were a young reader, I'm not sure how much confidence it would give me that Vogue had its manicured finger on the pulse of what was next.
But what you, Grace, embody and what you bring to the pages of Vogue is something that transcends fashion and age: It's soul.  You may be manipulating matters of the body in the material world, but your vision springs from your spirit. Watch this pirated video of the most moving scene in the film to see why I adore you, and why everyone else should too.