Wednesday, November 10th, 2010...5:52 pm
#153: Don't Fear Death
Jump to Comments
I went to the cemetery today with my badass friend Mary Jean: historic Green-Wood Cemetery in Brooklyn, not that far from where we met and became friends as young moms 25 years ago.  A few minutes into our old people-style trolley tour, I looked over to find Mary Jean had put on her sunglasses: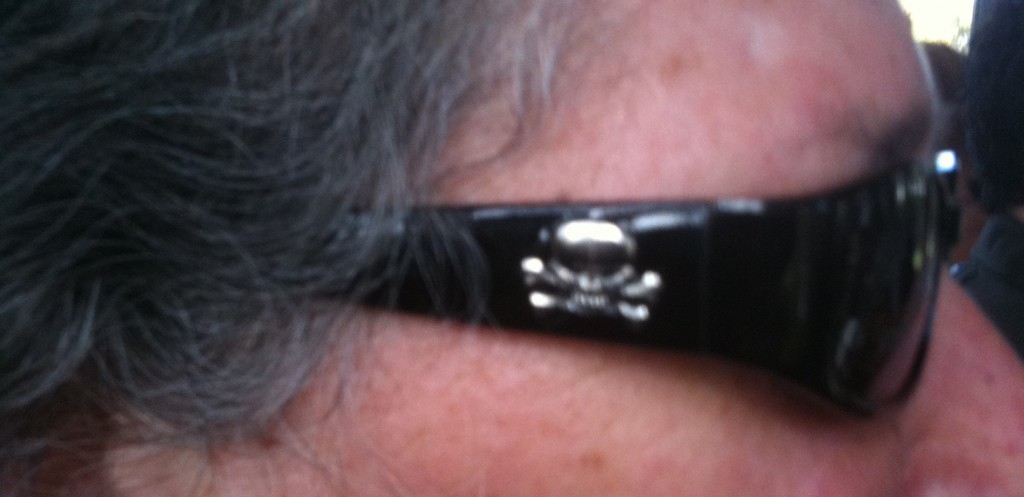 How freaking perfect is that?
Mary Jean's dark sense of humor and style put me in mind, as we wound through the gravestones, of a number of things. One was my ongoing search for what constitutes great style when you're too old to pretend you're 38 and too young for the crypt.
When last I posted fashion photos, I was criticized for focusing on the don'ts. Couldn't I be a little less mean, a little more positive?  Couldn't I find any people who were doing things right?
Well, yes, today I found a few, besides Mary Jean: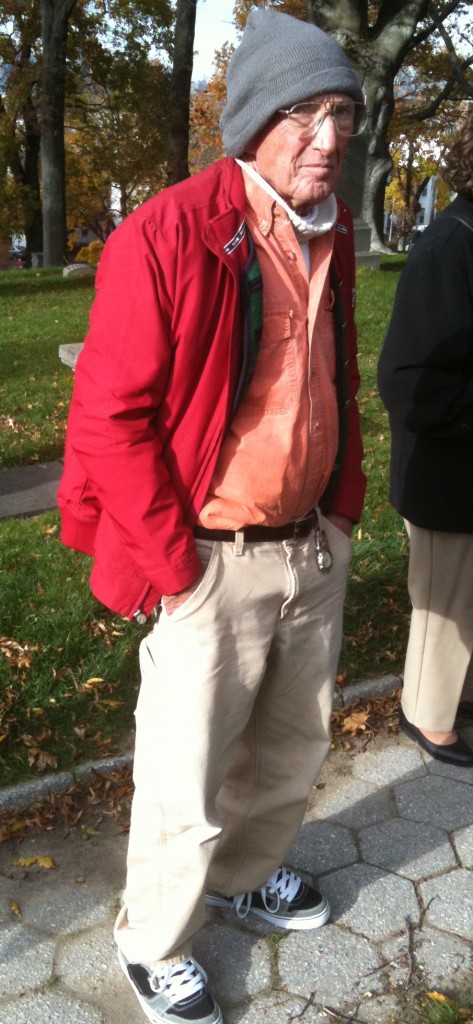 This fellow looks like he knows I was taking his picture, maybe because I came right up to him and pointed my cell phone at him and snapped a photo, while pretending to look over the field of gravestones to New York harbor.
But really, doesn't he look great? Love the stocking cap, the orange and red combo, the keychain on the belt loop, the suede skaters' sneakers. I wanted to rush right out and buy an outfit exactly like his.
I thought the woman below looked great too, in a French kind of way. You can't go wrong with a big, well-knotted scarf, a Barbour jacket, natural hair and no makeup, slim-fitting jeans.


And then there was this pair. Well, really, it was mostly him I was interested in. Lots of guys, young and old, wear tweed jackets and chinos, but what elevated this outfit was the peach shirt and the long, soft-looking (trust me on this) green scarf, wound artfully around the neck.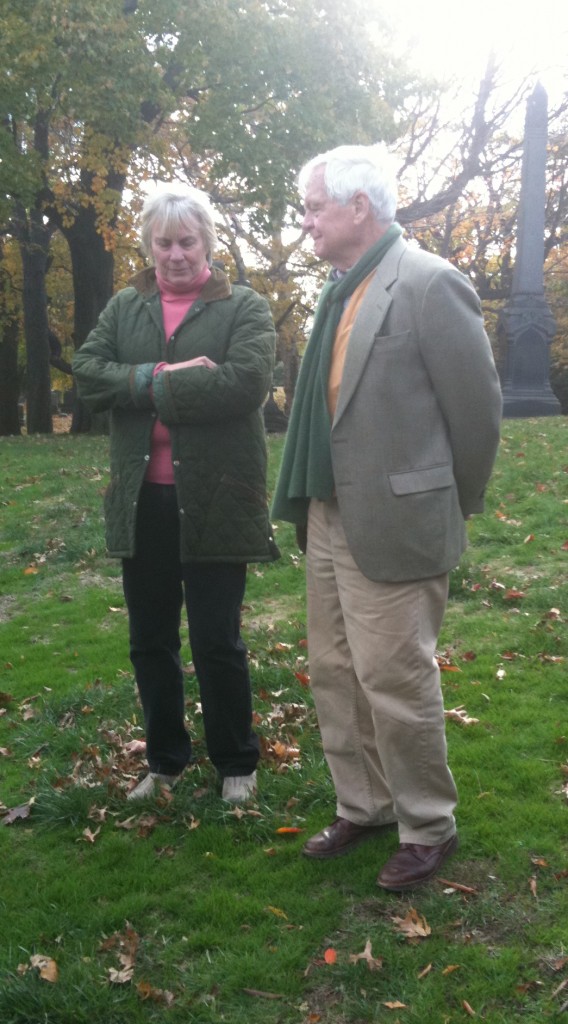 If you're an old guy, or gal, with a basic sense of style, you can take any outfit from ancient to amazing by adding a really special scarf: longer and more dramatic, in a more luxurious fabric and standout color than you may first be attracted to.
Back to Mary Jean. And those skulls on her glasses.  And the fact that her idea of a good time, like mine, includes touring a cemetery.  And that she's not afraid to make fun of death.
I've been trying to come up with a title for a theoretical new spin on How Not To Act Old that my (yes, young) agent likes, but she thinks all my choices are too dark.
So tell me, do you like any of these?  Have any better ideas for me?
50 and F**ked
50 and F***ked (that's freaked: count the asterisks)
Field Guide to the Evil Young
How to Rock Until You Die
Badass 4Eva
That last one's for you, Mary Jean.