Thursday, June 25th, 2009...9:06 am
#137: Don't Bake Dangerous
Jump to Comments
Either I'm the last person on earth to learn how to bake a chocolate cake in a coffee mug in just five minutes, or the first — well, the second — over 40 to get in on a "secret" that seems to be all over youtube, with cooking instructions by bespectacled hipsters and nine-year-old boys.
It all started about an hour ago, when I was sitting innocently at my computer, looking, as usual, for some action.  Along came my gal pal Deyna Detroit Vesey, the genius who wrote "I Wanna Be A Toys R Us Kid," with her recipe for Dangerous Cake.
I thought it was a joke.  But not being one to turn my back on any promise of chocolate cake, I figured I'd try it anyway.  I assembled the ingredients:
and followed the very simple recipe contained in Deyna's email:
4 tbsp flour
4 tbsp sugar
2 tbsp cocoa
1 egg
3 tbsp oil
3 tbsp milk
bit of vanilla
chocolate chips, if desired and available
Mix dry ingredients in a large, microwave-safe mug.  Mix in egg.  Mix in oil and milk.  Add vanilla.  Add chips (skipped those, but only because I didn't have any).  Put in microwave for 3 minutes on high.  Remove.
And here's what I got: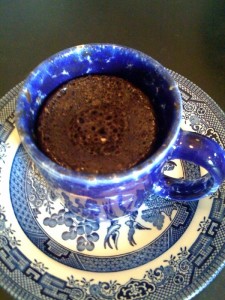 OMFG!  Looks like an actual cake!  The next step is to scoop it onto a plate, whereupon it looks even more real: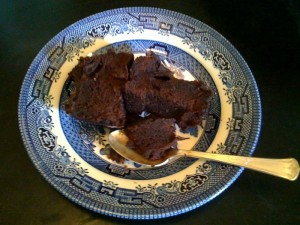 And how does it taste?
Before I tell you that, let me just take a moment to answer the other question that may have been nagging at you ever you started reading this post: What does baking this cake have to do with acting old?
Well, if you're able to hop up and bake one this very minute, as I suspect half of you have already done, it means you've got a pantry and fridge stocked with all the necessary ingredients: pretty mature of you.  It also means you own a mug, a tablespoon, and a microwave: again, how grownup!  Plus, unlike your sylphlike younger sisters and bros, you're probably the kind of person who's up for eating homemade pastry. at 10 a.m. or 2 a.m. or, really, whenever.
Okay, back to your question about how the cake tastes.  Here's your answer: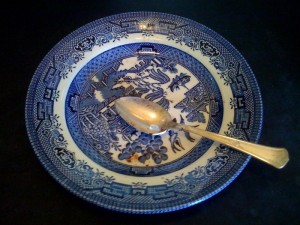 And yes, that's why they call it Dangerous.